Adega de Monção Escolha
90 points- Wine & Spirits Magazine 2020. Crisp, refreshing white from DO Vinho Verde.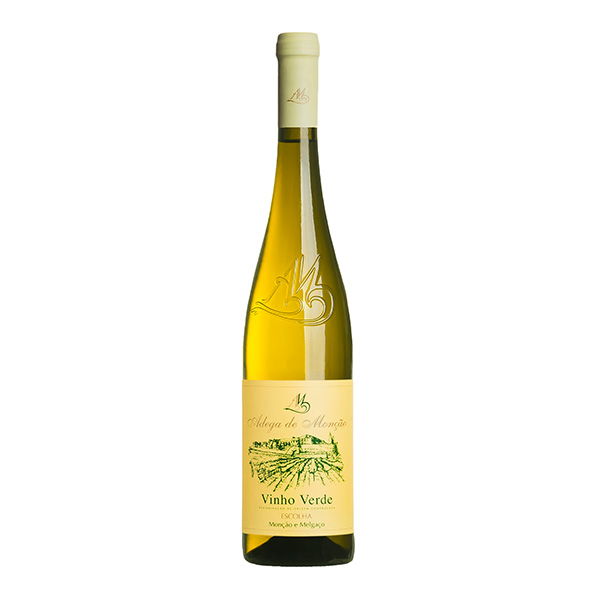 Producer Adega de Monção
Grape Variety Alvarinho and Trajadura
Alcohol 11.5%
Tasting Notes
Crisp and refreshing white wine with light petillance and an aromatic, crisp, citrus nose. On the palate, an intense bouquet of fresh lemons and orchard fruits (peach, apple) with subtle hints of white flowers and crushed rock. Perfectly balanced with zesty acidity and wrapped in a rich, creamy mousse, with a long, crisp, clean finish.
Terroir and Viticulture
Co-operative vineyard holdings of 1237 ha in total, located in in the sub-region of Monção & Melgaço, especially known by its high quality Alvarinhos. Monção & Melgaço has a very specific microclimate with mountains enclosing the region in a green amphitheatre of stately hills that open onto the Minho, protecting the area from the harsh winds of the Atlantic and giving rise to cold, rainy winters and hot, dry summers. This exquisite natural enclosure creates the perfect conditions for the production of excellent wines.
Vinification
Extraction of the must from first and second pressings. Decantation over a period of 24hours at 14 C. Controlled fermentation at cool temperatures between 18-20 C. Primary filtration and cold stabilization by contact method. Earth filtration and final filtration by membrane filter prior to bottling. 
Food pairing
Ideal as an aperitif, or with seafood, shellfish and grilled or fried seafood.