Enate Chardonnay 234 2020
Gold winner at Chardonnay du Monde. Silver Bacchus winner. 90 Points James Suckling. An intense, mouth-filling Chardonnay from the cool-climate terroir of DO Somontano.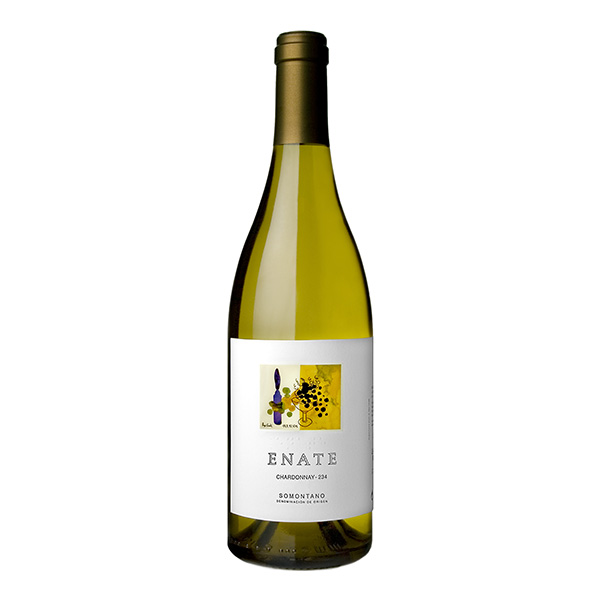 Producer Enate
Grape Variety 100% Chardonnay
Alcohol 13.5%
Tasting Notes
Intense bouquet of apple, peach, fennel and exotic fruit (guava, passion fruit) with a subtle mineral background. On the palate the wine is complex with rich, mouth-filling fruit and a long, crisp, clean finish.
Terroir and Viticulture
Located in the DO of Somontano in the province of Huesca, Enate's 500 ha of vineyards are distributed throughout the municipalities of Salas Altas, Salas Bajas, Cregenzán and Basbastro. Somontano's unique terroir conditions make it ideal for vine-growing: a mild, Continental climate with wide diurnal range; permeable soils and pure meltwater from the Pyrenees. Our vineyards are located at an altitude of approximately 600 metres on low fertility calcareous terrain.
Vinification
Hand-harvested grapes are put into boxes and upon arrival to the winery they are lightly crushed and placed in a pneumatic press for five hours while they undergo pellicular maceration. Solid matter  is removed by natural decantation at 10°C and the must is fermented in stainless steel tanks with selected yeasts and temperature controlled at 16°C. Before the wine is bottled it is clarified, stabilised and filtered. The wine rests for six months before going to market.
Food pairing
Perfect match for citrus-based seafood dishes, creamy pasta and roast chicken.