Enate Cabernet-Merlot 2020
Where wine meets art. A Bordeaux blend with lively Somontano character.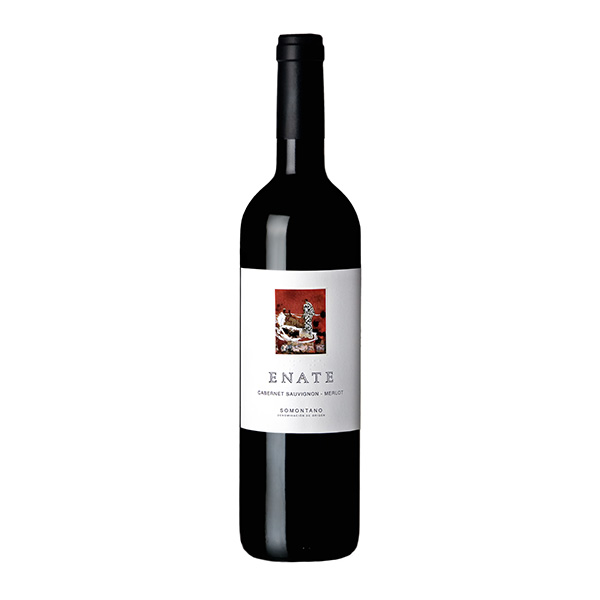 Producer Enate
Grape Variety Cabernet Sauvignon, Merlot
Alcohol 14.5%
Tasting Notes
Deep ruby color. A smooth and easy-drinking wine with a tasty and intense mid-palate in which ripe bramble fruit takes centre stage. Suggestive and complex nose of berries (blackcurrant and blackberry) with elegant floral notes (violet) and hints of pepper, vanilla and undergrowth. Subtle toasted background with a lingering finish.
Terroir and Viticulture
Located in the DO of Somontano in the province of Huesca, Enate's 500 ha of vineyards are distributed throughout the municipalities of Salas Altas, Salas Bajas, Cregenzán and Basbastro. Somontano's unique terroir conditions make it ideal for vine-growing: a mild, Continental climate with wide diurnal range; permeable soils and pure meltwater from the Pyrenees. Our vineyards are located at an altitude of approximately 600 metres on low fertility calcareous terrain.
Vinification
Each grape variety is pressed and vinified separately in stainless steel tanks kept at 26 ºC. Following the alcoholic and malolactic fermentations, the wine is aged for six months in 225 litre French oak & American oak barrels, for precisely the appropriate amount of time to provide a touch of distinction, complexity and roundness to the wine.
Food pairing
Can be enjoyed on its own or with a variety of cuisines including, earthy dishes, grilled poultry and game, risottos and pastas, caprese salads and charcuterie.